Inventor of Boomer, the world's only Tennis Robot
Welcome to Boomer Tennis Robot
Boomer is the perfect tennis partner: he's always ready to play when you are.
The camera-mounted tracking system (see video) let's Boomer SEE THE BALL with you so the game is interactive. IT PLAYS LIKE A PERSON.
Boomer to be ready to play when you are.
Testimonials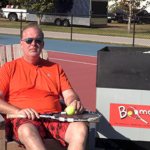 Now my whole family uses our court instead of just me when I can find a partner. The kids get exercise. Mom gets a break. It's just plain fun to have around. – Dr. Doug Gearity, Florida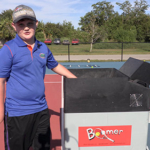 Boomer is fun! I get exercise while playing all kinds of games and it's cool to control a robot! Grant Gearity, Boomer for Kids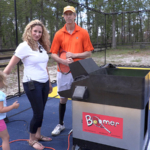 Boomer plays when you want and at the level you can. Proud owner of Boomer in Florida.